With the global pandemic causing all sorts of problems to MGM and the release of their 25th Bond installment, No Time To Die, Luke Walpole looks at the Bond franchise as a whole to ask: Is 007 cursed?
Even before Covid-19 struck there was a time when it was looking unlikely that James Bond would return in No Time To Die – particularly for Daniel Craig, whose tongue-in-cheek comment that he would rather, "slit his wrists" than play Bond again soured the press tour of Spectre (2015). The greying Craig, who presumably had no time to dye before filming (questionable pun – ed), was eventually persuaded to commit to one final adventure. Even with him on board, No Time to Die's nascent troubles were never ending.
---
Visionary director Danny Boyle came and went, a much-vaunted cameo from Grace Jones was canned, and an on-set explosion injured a member of the crew. Oh, and Craig broke his ankle midway through filming. Though the acclaimed Cary Fukunaga seemingly steadied the ship, news that veteran composer Hans Zimmer was called in to score the film with only three months to go led many to deem the production cursed.
However, No Time To Die's troubles are just a recurring theme in the history of Bond's globetrotting. Ever since Dr. No (1962), countless Bond adventures have been plagued by on-set drama, off-set wrangling and the occasional jolt of tragedy. Maybe it's no surprise that films of 007's scale leave space for the odd bit of confusion.
No Time To Die's troubles are just a recurring theme in the history of Bond's globetrotting.
It's hard to believe, but there was a time when Bond wasn't quite so big. Initially, producers Harry Saltzman and Albert R. 'Cubby' Brocolli were keen to convert Ian Fleming's eighth novel, Thunderball, into 007's big-screen outing debut, and their first choice to play the superspy was Cary Grant. Grant, though, was not overly keen on the idea and would only agree to a one-picture deal. Seeing this as a movie series, Saltzman and Broccoli turned, of course, to Sean Connery.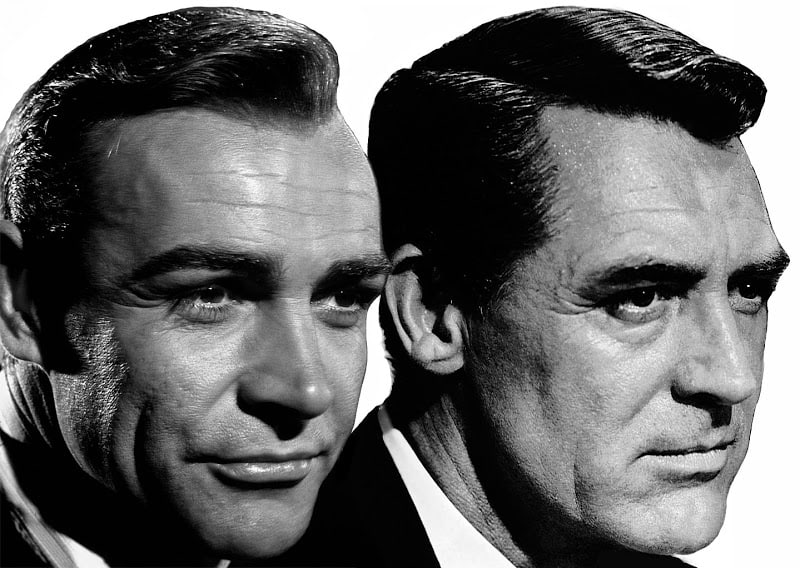 Golden-era Hollywood icon Cary Grant was Harry Saltzman and Cubby Broccoli's first choice to play Bond, before Sean Connery was cast.
---
When the cameras eventually rolled, budgets were tight. The paintings which hung on the walls of M's office were, in fact, made of cardboard, while the final confrontation in Dr. No's lair was overseen by only one sound editor. Perhaps this was to be expected. Bond, though a popular literary figure, was stepping onto the big screen for the first major time. MGM may have given James Bond a cinematic licence to kill, but they weren't going to give his producers a blank cheque.
Some issues, though, kept rumbling. Though Thunderball (1965) did become Bond's fourth outing, legal disputes surrounding the film were only formally resolved in 2006, following a decades-long battle between Fleming's estate and his former collaborators Kevin McClory and Jack Whittingham. There was a similar rights issue in 1967, when David Niven's spoof movie Casino Royale was released just two months before You Only Live Twice. Jittery EON executives filled the film's poster with a defiant message: "Sean Connery IS James Bond."
Nailing down a double-0 has proven difficult too. Political instability in Cambodia and the arrival of TV series The Saint ensured that Roger Moore would have to wait for his time as Bond. Later on, Remmington Steele's improved ratings and the show's litigious producers saw Pierce Brosnan have to pass on the initial offer of Bond, with Timothy Dalton instead taking the reins for two films.
The iconic opening sequence to Thunderball (1965).
---
While a change in actor isn't ideal, the Bond films have also seen their fair share of severe accidents. Harold Sakata, Oddjob himself, badly burned his hand when his character was electrocuted in Goldfinger (1964), while a stunt double in Thunderball nearly drowned following a malfunction in his breathing apparatus. Worse was to come; Paolo Rigon, a stuntman on For Your Eyes Only (1981), was killed after a high-speed bobsleigh accident.
Some things, however, are impossible to predict. On Her Majesty's Secret Service (1969) was pushed until after You Only Live Twice (1967) thanks to an unseasonably warm Swiss winter. Later, the impact of the Writers' Guild strike in 2007/08 forced Daniel Craig to re-write scenes for Quantum of Solace (2008) between takes with director Marc Forster. Never one to mince words, Craig said the strike "f***ed" his second adventure as 007.
Perhaps the strangest example, though, came as a result of a former Bond himself. First Knight (1995), the film which saw Sean Connery take on the role of an ageing King Arthur, had booked Bond's spiritual home of Pinewood Studios at the close of 1994. This meant that Pierce Brosnan's maiden adventure on her majesty's secret service, Goldeneye (1994), was instead shot in an old Rolls Royce factory. In so doing, the Bond name helped to create Leavesden Studios as we know it today.
All of this suggests that, though Daniel Craig's swansong may have had an unusually high number of on-set hijinks and off-set issues, it's not alone in struggling to bring 007 to the big screen. Fleming's creation may indeed be a relic of the Cold War, a sexist dinosaur, but he's not extinct just yet.
---