One of the most succesful movies in Hollywood history, we're on board the most famous ocean liner in the world with James Cameron.
Titanic was released in 1997 and went on to become the highest grossing film of a all time and equal the record for number of Oscars wins. Written and directed by James Cameron, the film tells the story of Jack and Rose, two passengers who fall in love aboard the ill-fated ship. Matt, Westy, and John have joined the crew to tell the story behind the scenes, with some big laughs and opinions thrown in, too, in our Titanic review.
Titanic is a film of two halves. The first tells a tale of star-crossed love, whereas the second charts the fate of the ship, from hitting the iceberg, to disappearing beneath the waves. The action sequences and technical innovations, spearheaded by Cameron, still hold up today as an example of top action filmmaking.
---
Subscribe to our YouTube channel
---
About the episode
Our Titanic review analyses the film in full, has some astonishing behind the scenes trivia and tells the stories of some of the real-life passengers on the Titanic. All delivered with typical ATRM laughs and big opinions.
We talk James 'Iron Jim' Cameron as the writer and director of the movie – a passion project for him. Under the cast we talk two of the most acclaimed actors of their generation in Leonardo DiCaprio and Kate Winslet. And under the highlight section, we each pick a favourite moment. Matt talks about the scene where Jack saves Rose's life. John talks about the tense moment the ship strikes the iceberg. And Westy tops things off by talking about the extraordinary moments where the ship vanishes into the Atlantic.
Watch the full video above of our Titanic review. If you like it, please visit our YouTube channel to subscribe, share, comment and like.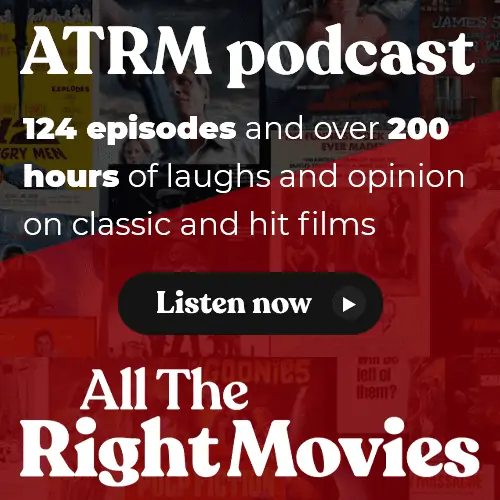 The beginning of a beautiful friendship
Stay up-to-date with all things All The Right Movies by signing up for our e-newsletter.